USE THE ACCESS MANAGEMENT SYSTEM FOR A SAFE MARINE BUSINESS
The Access Management System (AMS) is designed to streamline and simplify contractor
and compliance management at marine industry worksites.
It is a signing-in system for visiting contractors, which registers the Marine Card profile to check induction status and up-to-date insurance to work on site. It makes signing in and out quicker and easier, without the need for checking paperwork and chasing insurance.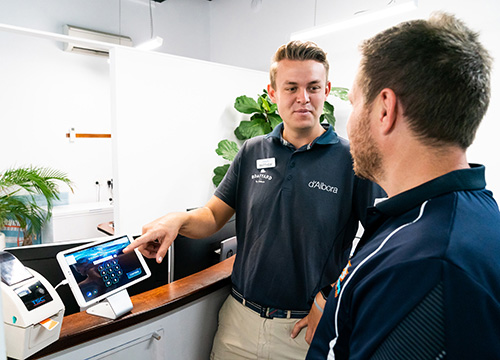 AMS is a web-based platform developed as part of a collaborative development program involving leading marinas, boatyards and yacht clubs. Ongoing upgrades based on in-field use further enhance the system.
AMS streamlines processes and improves the efficiency of compliance for both contractors and facility operators by as much as 90%, with AMS automating and streamlining access management through either a tablet-based sign-in process or a venue specific QR Code. A sophisticated, user-intuitive back-end portal provides control and oversight for the venue
Efficient, neat, and highly effective, the AMS replaces contractor register and key-log books, ring binders full of documents and excel spreadsheets – as well as the work of maintaining and monitoring these.
The AMS interacts with the Marine Card web system, locally processing cloud- based data from individual Cardholder profiles. On entry to the venue, the contractor or their dependent staff simply tap into the AMS touchscreen their Marine Card number and PIN, or scan the venue specific QR Code on their smart device to enter their details. Where the information on the Cardholder's profile meets the access metrics set by the Venue Administrator (e.g. insurance value and currency), contractors are automatically logged into the venue.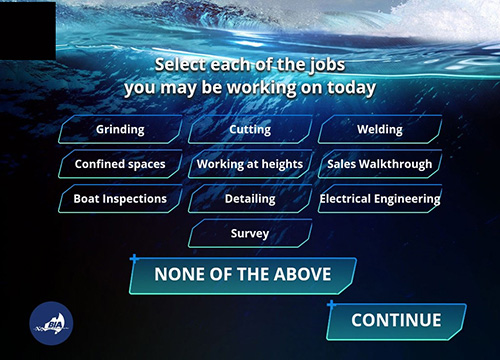 Contractors logging out of the venue simply reverse the sign-in process at the tablet or on their smart device. As a reminder, an automated SMS prompt can be sent to contractors on site as the venue closing time approaches
Once the employer or principal contractor's web profile is up to date with contact, insurance and dependent worker information, they can access participating venues seamlessly, without the requirement for continual updating of paper-based staff lists and insurance documents previously needed at each individual venue
The Marine Card web system alerts contractors via email when insurance documents are due to expire, ensuring they have time to update as required. Venue Administrators use a simple document validation process to ensure ongoing insurance coverage and the integrity of key information
The Venue Administration Interface provides a clear visual overview of contractor and visitor activity on site. A suite of notification and reporting options support effective administration, record management and security, while the phone and tablet versions put venue monitoring information resources within easy reach from any web-connected device – remote from the venue, or out and about on the marina.
Login

to update details or renew your Marine Card